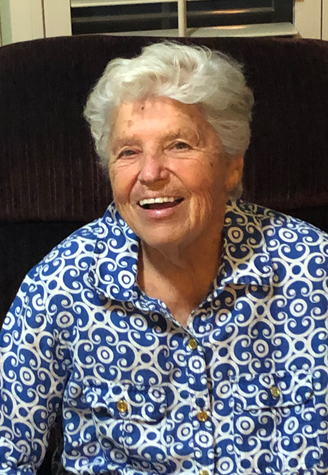 The first time I met Grace MacDonald, I remember thinking about how great her smile and laugh were. And how she did both. A lot. I had never met Grace and had only heard about her from our Thrift Shop manager, Carol Rose. Carol's love for Grace was palpable. She recounted stories about when Grace sat on the Thrift Shop Advisory Committee and how she would always bring donuts and special treats to the staff. I noticed how Grace paid close attention to us when we talked about helping women and children. This was her passion.
After our visit Grace mentioned that she "had a ring that she would like to donate to the WRC" and that she would "drop it off in the next day or two." It is not uncommon for people to ask if I can take items to the Thrift Shop. In fact, nine times out of ten after a presentation, people walk up to ask if I can "take a donation to the Thrift Shop?" "Absolutely" I always say. My car always has a donation of clothes, household items, etc. from someone that is going to the Thrift Shop. So, Grace's gift didn't seem that unusual.
Except it was.
The very next day, I got a call from Grace's niece Karen that they were in route to our office to drop off the ring. When they arrived, they called, and I walked down the front pathway to meet Grace who was tucked into the passenger seat. She rolled down the window and handed me a ring box and what I saw took my breath away! The 36 diamonds in the ring were dazzling!
"Oh my gosh Grace! Did you have a Princess Diana moment or what?!" I exclaimed. Grace smiled, laughed with me, and said "Yeah, I guess I did." She went on to explain to me that she had always wanted a diamond ring and on a whim went to a local jewelry store and bought this beauty.
Grace's giving legacy and this beautiful ring are treasures. And now we get to share the ring with you.
---
Ring Raffle
Through the months of October and November Grace MacDonald's diamond ring (valued at over $11,000) will be displayed at Miners North Jewelers in Traverse City.
Tickets available for just $100 each
Limited Ticket Sales. *Only 250 available.
Tickets can't be purchased online.
In-person:
Miners North Jewelers (October 1-November 30)
222 E Front St, Traverse City

WRC Administrative Office (October 1- December 15)
720 S Elmwood Ave, Suite 2, Traverse City

By phone:
231-941-1210

By Email: at jbell@wrcgt.com.
Raffle drawing date: December 18th at Miners North in Traverse City
You do not need to be present to win.
Get your raffle ticket today!